Sorry I missed the english parts of my posts lately, but at the moment I'm in the office for 12 and more hours and when I finally get home I'm so tired, competely unable to think / write an english article, not even a short one. And as I'm not really into one sentence posts, I just skipped the english part and wrote a little more in german.
Anyway, today I want to share another outfit post with you. My lovely friend Betty took this pictures when we met for lunch some days ago. We went to Elefant & Castle in the 7th district, because we both love their delicious curry. It was such a nice lunch-break: sitting in the sun, chatting about … well, what girls talk about and enjoying the most delish chicken curry in town, occasions like this help me refill my forces and get back to work with much more energy.
What helps you refill your batteries?
Sorry dass ich in letzter Zeit die englischen Parts meiner Posts ausgelassen habe, aber momentan bin ich meist 12 und mehr Stunden im Office und wenn ich dann endlich nach Hause komme bin ich so müde, dass ich komplett unfähig bin auf Englisch zu Denken oder einen englischen Artikel zu schreiben, nicht mal einen kurzen. Und da ich absolut kein Fan von Posts bestehend aus lediglich einem Satz bin, habe ich es lieber gleich gelassen und dafür mehr auf Deutsch geschrieben.
Wie auch immer, heute möchte ich wieder einen Outfit Post mit euch teilen. Meine liebe Freundin Betty hat diese Fotos gemacht als wir uns zum Mittagessen vor ein paar Tagen trafen. Wir sind zu Elefant & Castle im siebten Bezirk gegangen, weil wir beide deren leckeres Curry lieben. Es war so eine nette Mittagspause: in der Sonne sitzen, über….. naja, worüber Mädchen halt reden, quatschen und total leckeres. Hühner Curry genießen. Gelegenheiten wie diese helfen mir sehr meine Kräfte wieder zu sammeln und mit viel mehr Energie wieder zurück an die Arbeit zu gehen.
Wie füllt ihre eure Akkus wieder auf?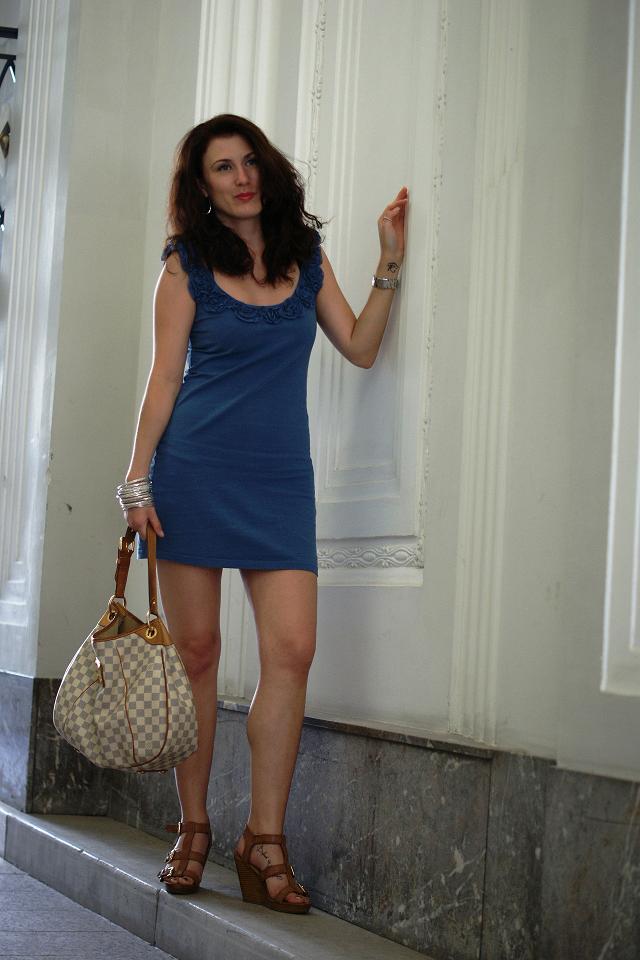 Dress ~ Kleid: H&M
Bag ~ Tasche: Louis Vuitton
Shoes ~ Schuhe: H&M
Bangles ~Armreifen: Forever 21
Watch ~ Uhr: Guess
Ring: Pandora
Earrings ~ Ohrringe: Pierre Lang