And another one of my lovely friends had the great pleasure to take pictures of my outfit some days ago, haha THANK YOU, Nicki (I know I'm annoying when I'm commiting everybody to take pictures of my outfits for the blog). Nicki is a good friend I know from fashion school and what makes her / makes us so special, is that we've got the same birthdate, well not exactly, she's one year older. I don't know, call me crazy, but I really see her as a special friend, because no matter how long we didn't see or hear from each other , we're still at the same page and it always feels like yesterday that we've met.
This pictures were taken after we had lunch, no wait, actually it was just ice cream and hot chocolate for lunch, so this outfit was perfect to hide my belly after this delicious "lunch". I love it because it's so simple, but you're dressed up – I guess I was, because an old man said to me: "I'm sorry deary, but there's the label of your shirt coming out. May I put it inside your shirt again? Because, you look so chic to me, it would be a shame to ruin this appearance." Hahaha oh my god, this was so cute, I wish you coul have heard him!
How do you like this outfit?
~~
Und eine weitere meiner lieben Freundinnen hatte das große Vergnügen Fotos von meinem Outfit vor ein paar Tagen zu machen, haha DANKE, Nicki (Ich weiß ich nerve wenn ich immer alle verpflichte Fotos von mir und meinen Outfits für den Blog zu machen). Nicki ist eine gute Freundin, die ich aus der Modeschule kenne und was sie/ was uns so besonders macht, ist, dass wir beide den gleichen Geburtstag haben, naja nein, nicht genau, sie ist ein Jahr älter. Ich weiß auch nicht, nennt mich verrückt, aber ich sehe sie als besondere Freundin an, denn egal wie lange wir uns nicht gesehen oder gehört haben, wir sind immer auf der gleichen Wellenlänge und es fühlt sich so an, als ob es gestern gewesen wäre als wir uns zuletzt gesehen haben.
Diese Fotos sind nach unserem Mittagessen entstanden, nein wartet, eigentlich war es nur Eis und heißer Schokolade, darum war dieses Outfit genau richtig, denn so konnte ich meinen Bauch nach diesem leckeren "Mittagessen" verstecken. Ich mag es weil es so einfach ist, man aber trotzdem gut angezogen ist – Ich denke zumindest, dass ich das war, denn ein alter Mann hat zu mir gesagt: "Entschuldigung junge Dame, da steht das Etikett Ihres Shirts heraus. Darf ich es wieder in das Shirt stecken? Weil Sie sehen so schick aus, da wäre es eine Schande wenn das Ihre Erscheinung ruinieren würde." Hahahaha oh mein Gott, das war so süß, ich wünschte ihr hättet ihn hören können!
Wie gefällt euch dieses Outfit?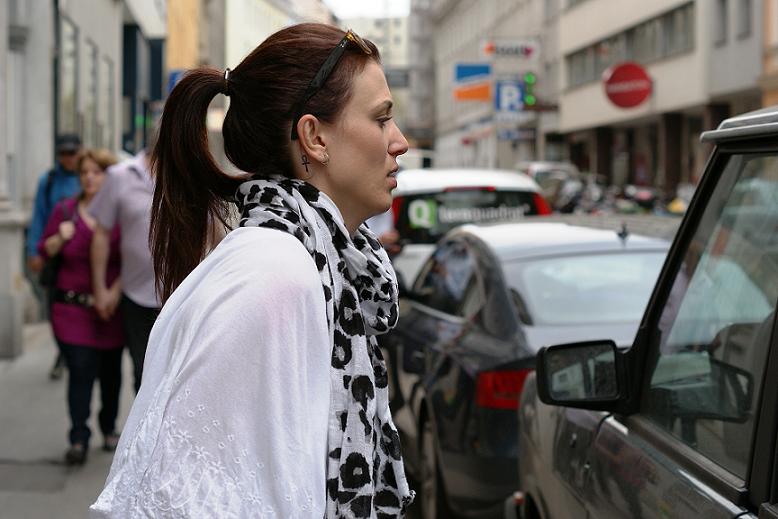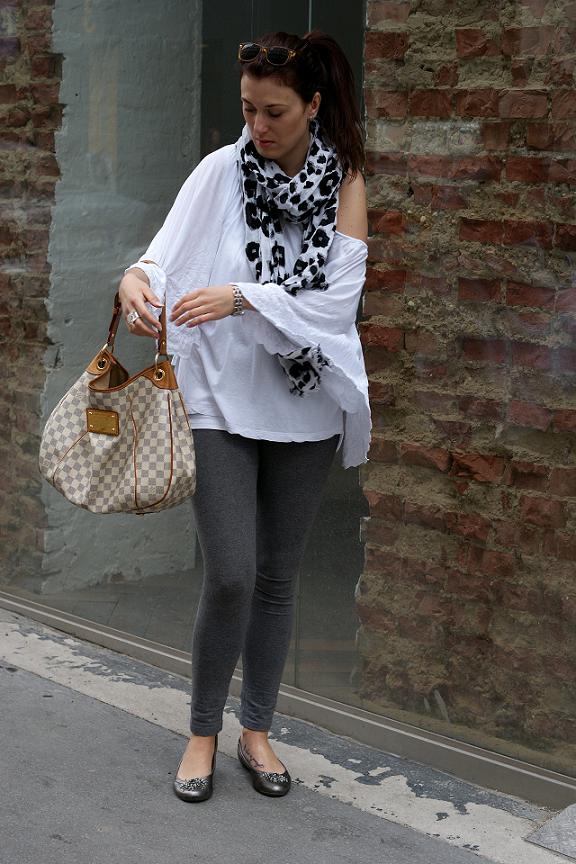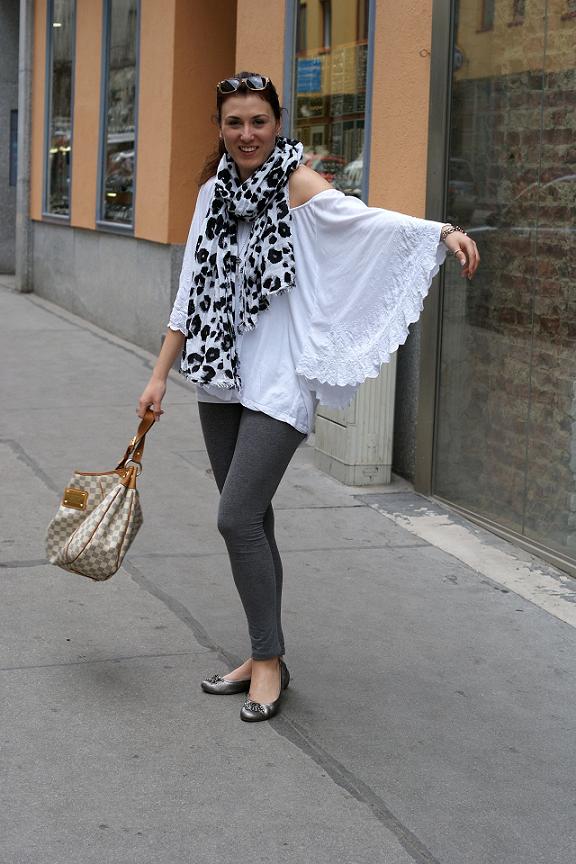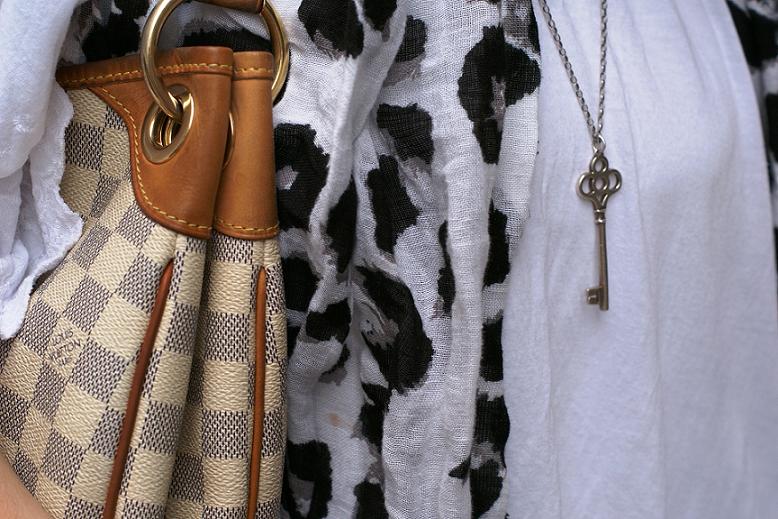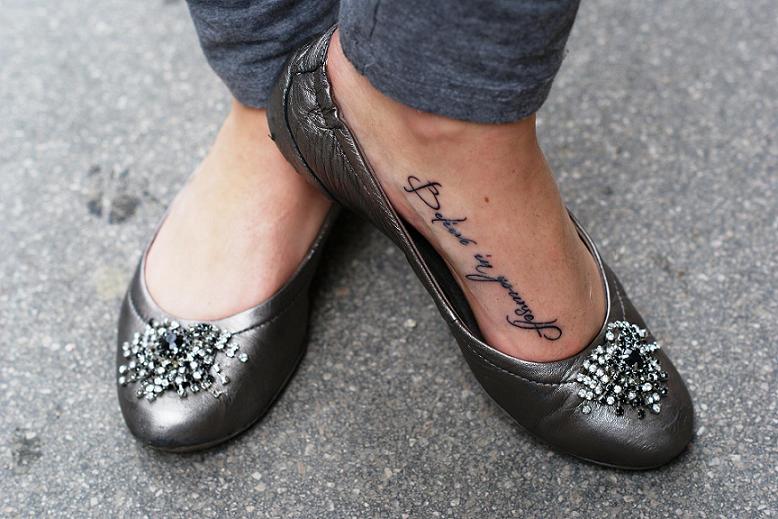 Leggings: H&M
Shirt & Tank Top: H&M
Sunnies / Sonnenbrillen: Ray Ban (seen
here
)
Necklace / Kette: Tiffany (seen
here
)
Bag / Tasche: Louis Vuitton (seen
here
)
Earrings / Ohrringe: Pierre Lang
Watch / Uhr: Fossil (seen
here
)
Ring: Pandora & Swarovski
Shoes / Schuhe: Tamaris (seen
here
)